Art Box 3rd Edition
Pattern and Repetition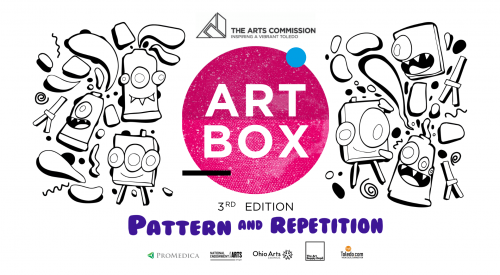 Art Box is a specially selected set of quality art supplies for all ages, skill levels, and interests. This packaged creative experience allows the community to experiment at home, providing lessons to create and learn with Toledo, OH regional artists. Supplies are curated by Art Supply Depō to align with materials and techniques used by the featured artists. The public is encouraged to share their creations on social media throughout the season using the hashtag, #MyVibrantToledo.
Featured Artists
Mercé Culp, 4-dimensional artist and designer; Ken Dushane III, muralist, designer, and educator; Nick Felaris, multimedia artist, illustrator, animator, and musician; Mary Gaynier, paper cutting artist; Natalie Lanese, visual artist; Ouizi, painter; Lindsay Scypta, ceramic artist & educator; Sandra Rivers-Gill writer, performer, facilitator, and playwright.
All Featured Artists work in a variety of mediums. What they have in common is their use and application of patterns. This edition also highlights public art with several of the Featured Artists who have created works in the collection. Additional sculptural work that embodies pattern and repetition is also showcased.
Learn more and stay up to date on release details here.