Lucas County Canine Care & Control Art Installations
Local Partnership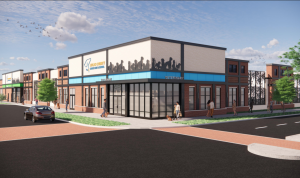 Request for Qualifications | Lucas County Canine Care & Control Partnership
Application deadline: July 10, 2023
The Arts Commission of Greater Toledo's Art in Public Places Program has partnered with the Lucas County Commissioner's office to commission new public art for specific sites in the soon to be constructed Lucas County Canine Care and Control building.
A Design Review Board (DRB) plans to select three artists to design public art installations to be integrated as architectural features of the building. Artists that work in a variety of 2D and 3D media will be considered. Preferences will be made for artists who show examples of work that are well integrated into architectural settings and show strong graphic design skills.
The project is open to all artists living within 50 miles of downtown Toledo, age 18 and over, regardless of race, color, religion, national origin, gender, age, military status, sexual orientation, marital status, or physical or mental disability. Artist teams are eligible to apply, including teams of artists from multiple disciplines.
ABOUT LUCAS COUNTY CANINE CARE & CONTROL
Lucas County Canine Care and Control handles stray and homeless dogs and enforces dog laws in Lucas County, which is in northwest Ohio, including the City of Toledo. They handle about 300 dogs monthly. The staff of 33 people is made up of: 5 Canine Control Officers and their crew leader, 3 front desk clerks, 2 dispatchers, 9 Canine Care Technicians and their crew leader, the veterinarian, two Registered Veterinary Technicians, a Veterinary Assistant, the Community Outreach Coordinator, the Personalized Adoption Counselor, the Behavior and Enrichment Coordinator, the Community Engagement Manager, the Office Manager, the Canine Care Center Supervisor (Deputy Dog Warden), and the Director (Chief Dog Warden). LC4 department is funded primarily through the purchase of dog licenses.
Request for Qualifications
Review the RFQ for eligibility and the submission link. Submissions are due by July 10, 2023.
Request for Qualifications