Oscillation
Interactive Installation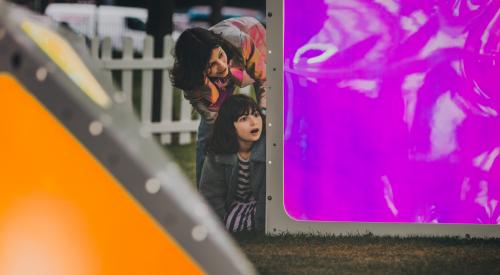 Giant crystals that come alive through movement 
Oscillation is an interactive installation that uses sight, sound, and movement to  spark community activity and social interaction through play.  
The installation acts somewhat like a theremin, an unusual musical instrument that  you can play without touching it. As you walk toward the piece, it plays different  sounds and pitches depending on your distance from it. And as you move and  dance around it, colors reflect and refract light in different ways based on your  angle and position.  
Oscillation is made up of five parts that are deconstructed from a solid cube using a  Voronoi algorithm. The crystal-like forms can be moved around and placed in a  variety of formations. The result is totally immersive experience that breaks down  social barriers and fuels joyful conversations between strangers.  
Creator and owner: The Urban Conga 
Tour producer: Creos 
Image (top of page): Oscillation, a creation of Urban Conga (Photo: Adam Luto Photography)
Find Oscillation on social media: #oscillation #theurbanconga @theurbanconga @gocreos
Previously Presented At 
2018, Grand Rapids, (USA) 
2019, Clearwater (USA) 
2020, Winterlude – ByWard Market, Ottawa (Canada)  
2020, Downtown New York, New York City (USA) 
2020, Montreal, Quebec (Canada) 
2021, Science Festival, Edinburgh (UK) 
2021, Lights! Families! Oakland!, Oakland (Pittsburgh), (USA) 
2021, SLU After Dark, Seattle (USA) 
2022, GLOW, Calgary (Canada)
2022, GLOW, Oklahoma City (USA) 
Prizes and Distinctions 
2018 - Art Prize in Grand Rapids, Michigan (Oscillation was selected as a featured  public project and as a finalist in the Art Prize Competition) 
2020 – Honoree – Interior Design Magazine's 2020 NYCxDesign Awards
The Creator Behind Oscillation
The Urban Conga is a multidisciplinary design firm promoting community activity and social interaction through open ended play. They achieve this by creating interactive installations and environments that spark creativity, exploration and free choice learning into the built environment 
"As Plato once said, 'you can discover more about a person in an hour of play than in  a year of conversation'. That's exactly what we set out to achieve with Oscillation."  - The Urban Conga  
About Creos  
A leading agency for temporary public interactive installations, Creos connects  owners, creators, and distributors of public art around the world so installations can  travel and shine on the international stage. 
Creos offers a portfolio of very diverse installations that give visitors a unique  sensory and interactive experience that changes based on the location and the  users. Creos also offers expert consulting services for technology and art in public  spaces, and project management services for the creation and development of  participative installations.