Poetry Readings
Curated by Jonie McIntire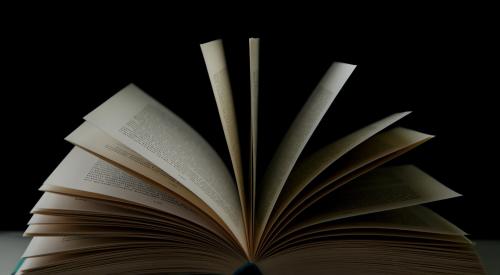 Enjoy a selection of readings curated by Jonie McIntire featuring Audamatik, Dan Denton, Della Della, Lydia Horvath, Huntorprey, and Jodie Summers.
Jonie McIntire, author of Semidomesticated (winner of Red Flag Poetry chapbook contest, 2021), Beyond the Sidewalk (Nightballet Press, 2017) and Not All Who Are Lost Wander (Finishing Line Press, 2016), and poetry editor at Of Rust and Glass, hosts a monthly reading series called Uncloistered Poetry from Toledo, Ohio. Learn about her at https://www.joniemcintire.net.
6 PM READINGS
Dan Denton is the author of five chapbooks and one novel, $100-A-Week Motel. He hosts the Blue Collar Gospel Hour Podcast, and volunteer writes for Toledo Streets Newspaper. He works full time as a union steward at Jeep and lives in West Toledo.
Lydia Horvath is a long-time OWE Toledo resident and art teacher at Toledo School for the Arts. She is a mixed media artist and printmaker and does caricatures as a side gig. She sings in a cover band and a choir, as well as in her car. Writing is a newer pursuit for her, spanning the past four years or so. She's placed in the TMA Ekphrastic contest once, and the Ode to the Zip Code a couple of times. She has had work published in Khroma and Pangolin Review. Don't get her started about Modernist architecture or typography.
Jodie Summers is a self-taught spoken word artist, poet, author, activist, illustrator, motivational speaker, event coordinator, chef and content creator. He is the author of the Tears of the wounded series, creator of Inked Truth, The DreamBox, owner of Toledo Mud Sauce and writer of Your Chapter Awaits. He has published and performed hundreds of poems, short stories and anthems under the title Spoken Truth and J Summers.
8 PM READINGS
Audamatik
Arts is my life.
Everything can be art.
I see the world in many, many different ways.
That is also how I express myself.
I appreciate beauty.
I appreciate honesty.
I believe they are the same thing.
I strive to make beautiful things.
I strive to be honest in my work.
My name is Audamatik. 
But that really doesn't matter much.
What matters is whether I make art that is
ThoughtfulMovingCommunicativeUpliftingLovingReflectiveInspiring...
But most importantly...
Soulful.
My life is pretty dope.
I know dope people.
I do dope things.
I am from Toledo, Ohio.
Huntorprey is a poet/hiphop recording artist from Toledo, Ohio.  His work is available at www.huntorprey.bandcamp.com
Della Della is a rap and spoken word artist in Toledo. She can regularly be found at the Just Be You poetry readings, every other Friday night at The Trunk.