Signal Box Wrap Project
Apply by July 10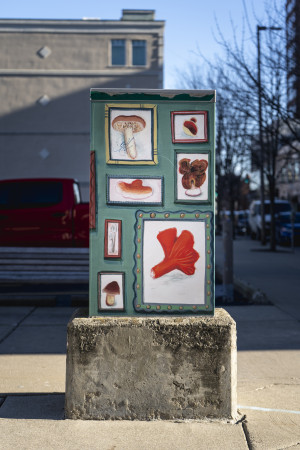 APPLY NOW FOR THE NEXT PHASE OF THE SIGNAL BOX WRAP PROJECT
APPLICATION DEADLINE: July 10, 2023
Starting in 2021 The Arts Commission's Art in Public Places program sought artists to create "Flora and Fauna" themed artwork to be applied as vinyl wraps on signal boxes around the City of Toledo. These innocuous metal boxes provide a great opportunity to implement moments of artistic discovery.
Phase one signal box wraps are located along Jefferson Avenue from Summit Street to Collingwood Avenue. This major corridor connects The Old West End, including the Toledo Museum of Art to the core of downtown Toledo. Phase two signal box wraps are located along Main Street from Front Street to Starr Avenue in east Toledo and were a collaboration between the Art in Public Places and Young Artists at Work programs. Phase three of the project includes signal boxes along Adams Street from Summit Street to 17th Street.
This phase of the Signal Box Wrap Project will enhance eighteen signal boxes in Toledo's downtown business district. Installations year will cover Jackson Street, Madison Avenue, Monroe Street, and Washington Street, from Summit Street up to Erie Street.