Supernova Regeneration
Digital Animation Screenings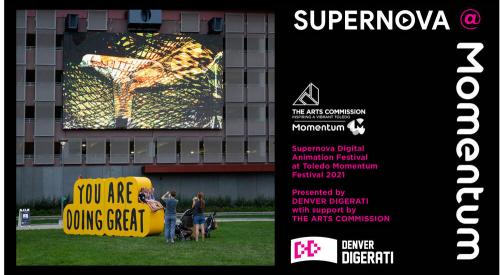 Supernova "Regeneration" at Momentum Festival 
Presented by Denver Digerati 
September 16th, 2021 
Denver Digerati has crafted two special programs of digital animation to present to the public at Toledo's Momentum Festival, celebrating the return to an in-person experience. This engagement represents the second time Momentum has collided with the annual Supernova Digital Animation Festival hosted in Denver, Colorado each September. Denver Digerati specializes in the integration of digital motion art and animation with public LED screens, presenting the offerings as a distinct public art experience. The Supernova network spans worldwide, bringing the artists' work across several program categories to a forum that takes place both online, for audiences around the world, and with exclusive live presentations. It's a concept for today's world, with digital tools allowing artists to unleash their imaginations in profound and dynamic ways. 
Denver Digerati has curated selections from the various programs that make up Regeneration, the 6th annual Supernova Festival, for two distinguished presentations with Momentum. Works have been selected for optimal integration with LED, and for the public's pleasure, with some of the more radical bits thrown in for good measure. 
Regeneration - Daybreak 
6:00 - 7:00pm 
This program offers some of the most pleasing animations for all audiences, think of it as fun for the whole family, with some grand artistry thrown in to hit a wide variety of notes. The Animations represent artists from around the world, pulled from Supernova's signature programs including; Kid Wonder, Student Shorts Showcase, Bodies in Motion, Abstract Sonic, Abstract Experimental, Director's Choice, the annual Competition along with a program dubbed: Post Covid Stress Disorder. All are a good transition from the end of the workday into an entertaining evening of visual splendor. 
Regeneration - Nightfall 
8:00 - 9:00pm 
Things start to become a little more surreal and sensory with Nightfall, perfect for when the sun has gone down and the spirit goes a little wild. The selected animations amplify some of the most distinct attributes of digital tools and the aesthetics promoted in the hands of pioneering artists. Animations in this program represent the broad spectrum of Supernova's signature programs. Nightfall includes the most recent music video from this year's Solo Artist Spotlight featuring: AUJIK, an entity based in Japan, whose work is an outstanding representation of the Regeneration theme. 
Full Supernova programs are available for viewing throughout the month of September exclusively on denverdigerati.org