Upon Reflection: Summit Street Median Project
Summit Street Median Project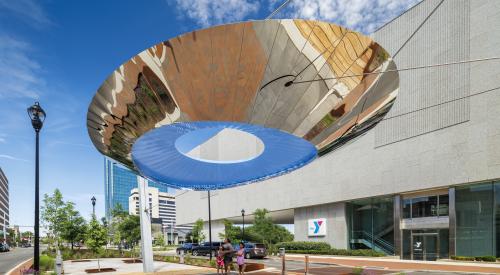 In June of 2020 The Arts Commission of Greater Toledo's Art in Public Places Program, in partnership with ProMedica, launched a request for qualifications to commission public art for the new median project along the Summit Street corridor in Downtown Toledo. Three finalists were invited to present proposals for the project and ultimately the proposal by Jason Klimoski / Studio KCA of Brooklyn NY was selected as the winning commission. 
After delays due to the COVID-19 pandemic's impact on the supply chain, this large-scale sculpture was installed in March of 2022. Sited at the newly constructed pedestrian friendly median at the 300 block of North Summit Street this sculpture is a highly visible beacon along the corridor. 
Upon Reflection consists of stainless-steel rods and two large masts that are used to suspend two oval shapes at the center of the median. One is mirrored metal; the other is set inside, backlit, and painted with a high gloss catalyzed paint. On sunny days, reflection from the outer mirrored metal illuminates the inner painted one. On days without sun (and during the night) LED lights continue to illuminate the painted inner oval bringing a bright sunny sky to a spot on Summit Street, night and day, rain or shine.