Whitman on Walls!
Poetry Readings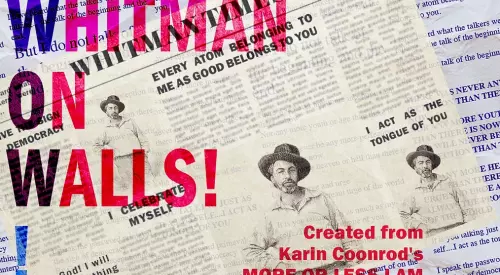 Whitman on Walls! (WoW!)
Whitman on Walls! (WoW!) is a new event that brings living poets and film together. Set outdoors, the WoW! experience is meant to provide the experience of a drive-in movie and poetry slam combined. Compagnia de' Colombari turned the original production of MORE OR LESS I AM, by Karin Coonrod, into seven short films as a means of engaging poets in light of the decrease in performance opportunities in 2020.
Over three weeks, more than 50 performance artists from around the world were recorded to create films that are meant to embody Whitman's words. The project goes beyond the films, inviting local poets to respond authentically to the films in their own words.
WoW! at Momentum
You can enjoy WoW! during Momentum Festival - the program will be on Saturday, September 17th, from 7PM to 8PM at Promenade Park. Led by Lucas County Poet Laureate, Jonie McIntire, local Toledo poets will be responding to the films and encouraging audience members to join in conversation about Whitman's work and his role in American culture.