Additional Resources for Artists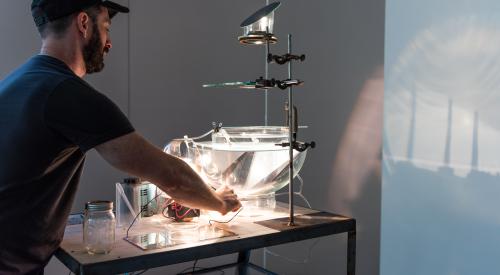 Find a full list of resources for artists, and submit opportunities to share with other artists on our Artist Opportunities page.
GRANT OPPORTUNITIES
$1,800 Innovate Grant | Innovate Artist Grants
Application Deadline: March 23, 2023
Innovate Grant awards (2) $1,800.00 grants each quarter, to one Visual Artist and one Photographer. In addition, (6) honorable mentions (3 in art and 3 in photo), will be featured and recognized on our website and join a growing community of vibrant and talented artists. Innovate Grant's commitment extends beyond the grant cycle by promoting the work of selected winners and honorable mentions into the future. We've simplified the grant process, so that artists and photographers can focus on making their innovative work. The work should speak for itself and our application reflects that.
How to Apply:
All media and genres are accepted. All applicants (visual artists and photographers) 18+ years and older, from all around the world, are eligible to apply. All applicants retain the right to the work they submit.
Explore the work of Past Innovate Grant recipients and Read their Interviews at https://innovateartistgrants.org
Category: Multiple disciplines and genres accepted
Region: US & International
Awards: 2 x $1,800.00 USD Grants // 6 x Honorable Mentions Interviews
Apply Online Today - https://innovateartistgrants.org
WORKSHOPS + LEARNING OPPORTUNITIES
Photographing Your Artwork | Toledo School for the Arts
Saturday, April 15th, 2 p.m.
Toledo School for the Arts, 333 14th Street, Toledo, OH 43604
Need professional images of your artwork for promotion and exhibition applications? Learn from a pro how to photograph your artwork!
Stephen Johnston, Toledo School for the Arts Instructor and professional artwork photographer (as well as longtime TFAS trustee), demonstrates artwork photography tips and tricks, with a Q&A session.
This session is also ideal for TFAS members planning to enter the 2023 Juried Members' Exclusive Exhibition!
Free event for TFAS members. Pre-registration is required for entry to the facility. Reserve your seat via the TFAS Calendar.
Diving Deeper: Finding Grants and Funders
Toledo Lucas County Public Library | Main Branch
April 20, 9:00AM - 3:00PM
Getting started with grants can be a confusing and time-consuming process. During this hands-on training, you will learn how to find grantmakers who support your programs. Grant Specialist Librarian, Zach Huber, will guide participants on how to build a strategy and navigate grant databases, specifically the Foundation Directory. Zach will also help you better connect with your funders by illustrating how to identify the research needed to build a solid Needs Statement for your grant proposal. Additionally, participants will hear tips and best practices from a panel of local funders and grant experts.
 
What to bring to this training?
Your laptop computer or tablet. A limited number of computers will be available on a first- come first-serve basis.

A list and brief description of programs for which you need funding.

Your own lunch, or enjoy the SAME Cafe at the Library or one of the nearby restaurants on your own.
To register, click here. 
CALLS TO ARTISTS
2023 Biennial Juried Exhibition
Online submissions: February 6 – April 7, 2023
ABOUT
Ohio's professional artists are invited to showcase their artistic talents in the Ohio Arts Council's (OAC) Riffe Gallery 2023 Biennial Juried Exhibition.
Exhibition dates: October 28, 2023 – January 5, 2024. Selected works will be on display in the OAC Riffe Gallery, located in the Vern Riffe Center for Government and the Arts in downtown Columbus.
DATES TO REMEMBER:
Call for entries open: Monday, February 6, 2023, 6 a.m.

Call for entries deadline: Friday April 7, 2023, 5 p.m.

Notice of acceptance to the exhibition: the week of May 8, 2023

Artwork drop-off: Saturday, October 14, 2023, 10 a.m. - 4 p.m.
Review Eligibility and Submission Requirements and Apply Online:  https://2023bje.artcall.org/