Additional Resources for Artists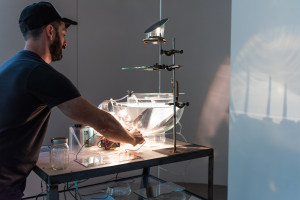 Find a full list of resources for artists, and submit opportunities to share with other artists on our Artist Opportunities page.
GRANT OPPORTUNITIES
Accelerator Grant
The Arts Commission values the many artists across disciplines who are part of Toledo's vibrant creative community. The Accelerator Grant is a competitive program offering financial support with a quick turnaround for local artists to advance their creative projects and their careers. Eligible categories of support for this program include equipment, supplies, professional development, and project support. Grant amounts are not to exceed $1500.
Individual Excellence Awards: The Individual Excellence Awards program recognizes outstanding accomplishments by artists in a variety of disciplines. This year, applications will be accepted in choreography; criticism; fiction; non-fiction; music composition; playwriting/screenplays; and poetry.
Deadline: September 1, 2023 | Learn More
Contact:  Chaz O'Neil, individual artist/percent for art program coordinator
This opportunity is available through the Ohio Arts Council.
WORKSHOPS + LEARNING OPPORTUNITIES
GRANT WRITING | A DEEP DIVE
The Center for Nonprofit Resources
October 24 + 25 | 8:30AM - 4:30PM
Unique opportunity for a two-day workshop at an unbelievable price! The Center for Nonprofit Resources is excited to offer this opportunity at half the normal expense for this type of workshops!
Reserve your spot for this two-day workshop offered in partnership with the Dorothy A. Johnson Center for Philanthropy of Grand Valley State University. You will learn about:
Writing grants effectively
How grants fit within an organization's existing fundraising and budget strategies
Sustainability and community support
CALLS + PROFESSIONAL DEVELOPMENT
MOMENTUM FESTIVAL | CALL FOR LOCAL ARTISTS
September 8, 15, + 16 | Downtown Toledo
Join The Arts Commission this September at Momentum Festival! Applications are currently open for visual and performing exhibition space at the event. Both of these opportunities are open to artists living and working within 50 miles of Downtown Toledo. More information and applications are available online at: https://theartscommission.org/events/momentum
Call for Artists: Ohio Veterans Art Exhibition
Submissions are now being accepted for the 2023 Ohio Veterans Art Exhibition, which will be on display in downtown Columbus from October 23 to December 8 in the first-floor lobby of the Vern Riffe Center for Government and the Arts. Current military members and veterans with varying backgrounds and levels of expertise are invited to submit their work. While space is limited for this exhibition, works in all suitable mediums are welcome, including 3-dimensional pieces. This exhibition is a partnership between the OAC and the Ohio Department of Veterans Services.
Submission deadline: August 31, 2023 | Learn More
This opportunity is available through the Ohio Arts Council.
Professional Development Opportunity: Join Arts Midwest, the Ohio Arts Council's regional arts organization, and South Arts for Pathways on the Jazz Road: An Artistic Career Workshop. Expert panelists will share their experiences and insights on the various aspects of the jazz industry, including performance, recording, marketing, and more. Attendees will also have the opportunity to network with other musicians and gain valuable advice on how to build your own artistic career. A limited number of complimentary tickets and $500 travel stipends are available. 
Workshop Date: September 23, 2023 | Learn More