Broadway Street Corridor
Public Art Project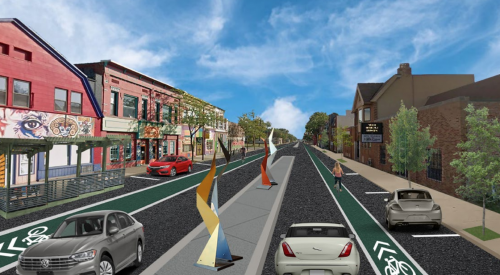 Project Description
The Arts Commission of Greater Toledo's Art in Public Places Program, in partnership with City of Toledo Transportation Division, the Broadway Corridor Coalition and the Sofia Quintero Arts and Cultural Center, seeks to commission artistically designed infrastructure enhancements for a new construction project along the Broadway Street corridor in the Old South End, Toledo.
We are looking for artists that have experience with integrating public art into transportation and civic infrastructure projects with a strong background in facilitating community engagement activities that will inform the project. Submitted qualifications will be judged on a competitive basis. Up to three finalists will be selected and invited to create a proposal for the site.
Successful proposals will celebrate the history and culture of the Old South End Neighborhood in Toledo. The artist, or team, selected for the commission will collaborate closely with the project management team and learn, in-depth, about the community through meetings and regular communication. Through this process, they will develop conceptual designs for artwork, identify the site(s), content, scale, and media to enhance integration of the artwork into the site.
Construction for the project will begin in 2024.
Eligibility
The project is open to all artists in the continental United States (with a preference for artists that live within 100 miles of Toledo OH,) age 18 and over, regardless of race, color, religion, national origin, gender, age, military status, sexual orientation, marital status, or physical or mental disability. Artist teams are eligible to apply, including teams of artists from multiple disciplines.
Timeline
August 10, 2022 Request for Qualifications Launch
September 12, 2022 Deadline for RFQ Submissions
September 22, 2022 Review of Applications
September 29, 2022 Finalists Notified
September 30, 2022 Schedule Finalists Site Visits (TBD)
November 10, 2022 Finalists Present Proposals
November 17, 2022 Winning Proposal Announced
The Arts Commission reserves the right to change the project timeline. Dates for site visits and proposals are tentative and will be based on the availability of the finalists.
Request for Qualifications
Click the link below to review the request for qualifications and submit an application. Applications must be submitted by 11:59PM on September 12, 2022.
Apply Here