Broadway Street Corridor
Public Art Project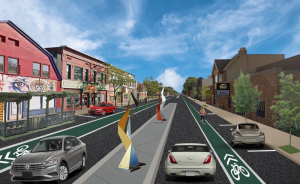 Project Description
The Arts Commission's Art in Public Places is collaborating with the City of Toledo, The Broadway Corridor Coalition, the Toledo Design Collective, and the Sofia Quintero Arts and Culture Center (SQACC) to develop a plan for public art and infrastructure enhancements along the Broadway Corridor. The corridor is undergoing a complete reconstruction from Western Avenue to Newbury Street and we are working to incorporate public art in the newly renovated space.
Four artists / teams have been selected for the project as finalists. The finalists are Roberto Delgado (Los Angeles, CA), Graphite Design + Build (Toledo, OH), Cecelia Lueza (Petersburg, FL), Tim Watkins (Brooklyn, NY). The artists visited Toledo on December 8th to meet the Design Review Board, tour SQACC and learn more about the site.
Finalist Presentations
The four finalists shared final presentations on Thursday, January 26th, 2023, via Zoom. The primary function of these presentations was to provide an opportunity for the Design Review Board to review and gather information from the four finalists for this project; the public was invited and encouraged to attend and provide feedback.
The finalist will be announced Spring 2023 and construction on this project will begin in 2024.
Artist Bios
Roberto Delgado / RLD Studio (Los Angeles, CA) - RLD Studio is a group of professional artists specializing in mixed-media public art design, fabrication, and installation. Their interest in public art has always been to expand the combination of diverse techniques in hand-brushed acrylic, fired ceramic tile, stone, and metal in ways that complement the built environment and show the culture and history of the community.
They see the project as a canvas where our own and the community's creativity can be expressed in classic and innovative mixed–media techniques. They are open to all media and lean towards a melding of worked bronze with fired ceramic – metal and earth.
Graphite Design + Build (Toledo, OH) - Graphite Design + Build embodies what their name suggests. The group takes concepts and ideas and makes them a reality. Every member of their design team has over ten years of professional experience in related fields. Most of this experience was not generated in offices or in front of computer screens, but rather in studios using tools and getting our hands dirty. What this means is that they design with a depth of experience at our backs, informing each and every concept with a plausible and realistic outcome. By rooting our designs in reality, they present their clients with proposals that they are capable of creating in-house, and therefore our execution matches the client's expectations.
Cecelia Lueza (Petersburg, FL) - Argentine American artist and sculptor Cecilia Lueza, studied visual arts at the University of La Plata in Buenos Aires, Argentina. Today, she is well known for creating vibrant public art pieces in a range of mixed media.
From painting and sculpture to monumental installations and street murals, Lueza showcases deliberate talent, precision and upbeat compositions that explore the visual effects of color and incorporate elements of nature and geometry.
Since 2000 she has been working on a variety of public art projects in many cities throughout the United States. Her work has been exhibited at Art Miami, Arteamericas, and Scope Miami Beach, and in the last year she completed public art pieces in Washington DC, Jacksonville FL, West Palm Beach, and St Petersburg FL among others. Her work is part of many public and private collections throughout the United States, Europe and Latin America.
Tim Watkins / May + Watkins Design, LLC (Brooklyn, NY) - For over 25 years, May + Watkins Design, LLC, have been designing and fabricating artworks for public spaces. They have created indoor and outdoor site-specific sculpture, kinetic sculpture, mosaics, bas-reliefs, and exhibits for kids. They make high-quality artwork that defines a space, and that complements the natural environment, working closely with building and landscape architects as well as engineers on many of these projects. 
Over the last 15 years their public art commissions have focused more on organic forms, some with kinetic elements powered by renewable energy sources. They are interested in creating artworks that relate to the site and combine elegance of form with a dash of whimsy.