Field of Histories
Funded by Metroparks Toledo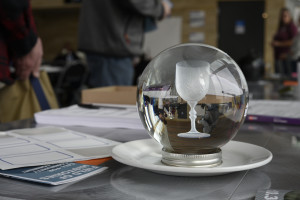 Project Description
Field of Histories will offer a destination for exploring the past, present, and future of glass in Toledo through an immersive public art piece that is integrated into the landscape.
Designed by artist Bryony Roberts (Brooklyn NY), Field of Histories will include 170 glass orbs that will have in their center a laser-engraved image of objects identified by community members during community engagement sessions. These sessions were held on October 30 and November 17. Residents were invited to bring objects of historical significance to them personally, to their family, or to Toledo's industrial history. More than 170 objects were documented through these community engagement sessions.
The objects will be documented with photographs, which will be used for a process of subsurface laser engraving. Through this process, 3d images of the objects will be engraved in the center of glass spheres, appearing as detailed frosted shapes. Mounted on steel supports and illuminated by LED lights under each sphere, the orbs and the frosted shapes within them will glow throughout the day and through the seasons. This field of glowing orbs will be a beacon, visible from across the river, drawing people to the park and to engage with the past, present, and future of Toledo.
Field of Histories is funded by Metroparks Toledo and will be located at Glass City Metropark. Installation is planned for October of 2023.