Flora & Fauna Murals
Culture Trail Framework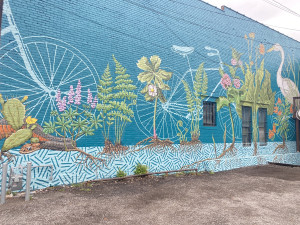 The Arts Commission's Creative Placemaking program is pleased to share a series of local Flora and Fauna-themed murals. Two of three artworks in the "Reclamation Series" have been completed: "Reclamation | Uptown Water Cycle," located in Laburnum Alley at 18th Street and Adams (behind Carlos Poco Loco and adjacent to a rain garden in Uptown Green Park), and "Reclamation | East Toledo Flood Plain Train,"  located at Harry Kessler Park, 328 Main Street. Both murals were completed by Graphite Design + Build and Natalie Lanese. 
The Flora and Fauna Mural Series is a culmination of years of community engagement work led by the Creative Placemaking Team, in concert with residents, partners, community groups, and organizations. The murals celebrate the local natural environment with references to each neighborhood's connection to water filtration, clean water advocacy, and neighborhood industrial history. Both murals are sited to address resident-identified safety and beautification initiatives and to support ongoing community planning efforts in each neighborhood. Two alumni of the Young Artists at Work (YAAW) program were hired as assistants to strengthen experience working with professional artists throughout the project.
These are the first two of three murals, with a third planned for the Junction community in the near future. A special thank you to the Black Swamp Conservancy for their partnership in initiating the series concept to celebrate the story of the Historic Great Black Swamp, Metroparks Toledo for their partnership in design and connection to native plantings and natural spaces, Toledo Design Collective for collaboration in community planning, and finally to building owners Kathleen Kovacs (Uptown) and Daniel Steingraber (East Toledo) for their partnership in making the walls available. 
The Uptown mural was funded through a grant from the National Endowment for the Arts, with support from ProMedica's Ebeid Neighborhood Promise. The East Toledo mural was funded by the Ohio Arts Council, with additional support from Invision, stewarded by local graphic designer and community advocate Chris Hatfield's Brick X Brick Project.
Reclamation | Uptown Water Cycle
Reclamation | East Toledo Flood Plain Train