human.poetry.machine
by Natalie Tranelli + Ryan A. Bunch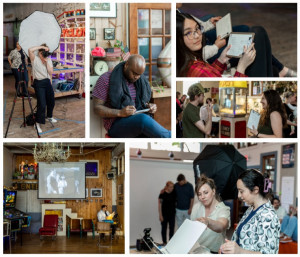 Follow the Tickets link to secure your spot or click here.
human.poetry.machine
human.poetry.machine (HPM) is designed as a multi-sensory interactive installation where the resulting artwork depends on audience participation. The primary goal of the project is to engage audiences from several angles, from involvement to passive enjoyment of the spectacle.
HPM is a poetry-photography project by Toledo-based artists Ryan A. Bunch & Natalie Tranelli. This live experience is co-created with participants who, through unique and personalized dialogue with the artists, fill out a short prompt and receive a portrait photograph adorned with a personalized, hand typed poem. The project is family-friendly and can accommodate both individuals and small groups. In addition to the direct interaction of participating guests, HPM is designed as a spectacle for visitors, including a vintage futurism theme, audio & visual components, and the excitement of watching guests go through the process.
HPM takes its inspiration from the industrial Midwest's manufacturing processes, where production lines transformed the 20th century. Through the rise and fall of the industrial era, this area provided fertile ground for artists. In HPM, we see a dialogue emerge of how the traditionally cold and impersonal manufacturing process can be replicated to create unique, one-of-a kind highly individualized works of fine art.
Learn more about Natalie and Ryan online at:
https://www.natalietranelli.com
https://midcoastagency.com/ryanbunch
https://www.instagram.com/kyruxmacist/
Tickets
After following the link below to the ticket page, click "Get Tickets" and follow the prompts to complete your order. Tickets are free. You can sign up as an individual or small group (2 adults or 1 adult and 2 children under 12). Time slots are 5:30pm - 7:00pm and 7:30pm - 9:00pm.
Sign Up for human.poetry.machine