Momentum | Intersection
Glass Program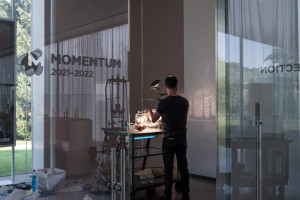 ABOUT MOMENTUM | INTERSECTION
Launched in 2018, the Momentum Intersection program is a collaboration of industry, design, and art. Inspired by the studio glass movement and the experimental glass workshops held in Toledo, OH in 1962, The Arts Commission seeks to provide new partnerships between applications of glass as an artistic medium and manufacturing processes.
Each year up to three creative individuals are invited to reimagine the potential of Pilkington float glass through the creation of newly developed works. A selection panel of internationally recognized industry experts review applications through two phases. The finalists begin as a group of six who are invited to tour Pilkington Glass North America facilities and manufacturing plant; attend seminars on the history of glass manufacturing; learn about materials from NSG research and development engineers; be given demonstrations on various applications of glass materials; be provided with materials of the participants choice, and receive ongoing support from NSG technical teams who will continue to be available throughout the process. Within three months the finalists are tasked with creating a final proposal for the jury to review with up to three projects given materials, an honorarium, and exhibition space during the following year's festival. 
2023 Momentum Intersection Exhibition
The 2023 Momentum Intersection Exhibition is scheduled for September 15 - October 15 at the Toledo Museum of Art Glass Pavilion.
The 2023 awardees have recently been selected from six finalists. The Arts Commission is pleased to announce that three internationally recognized artists / teams will be creating new work for exhibition this fall as part of the Momentum Festival. The awardees are: Molly Burke and Nathan Gorgen, James Friedberg and Gabriella Giungato, and Felicity Machado.
2024 Momentum Intersection Process
The 2024 Momentum Intersection Program accepted applications through June 28, 2023. A panel of jurors selected artists to tour Pilkington North America facilities and  be given demonstrations of their materials. Applicants will be given a sampling of glass of their choice and three months to experiment with materials before submitting final project proposals due December 2023. Proposals selected from the candidates will be given materials, an honorarium, and exhibition space during the Momentum Festival in 2024.
Jurors on the 2024 panel include:
Kristian Chalmers - Chalmers' current role is the Global Strategic Commercial Manager at Pilkington, part of the NSG Group with responsibility for developing the Architectural Commercial Strategy for Sustainability, a newly developed role, initially focusing on decarbonisation.
Previous roles at Pilkington include Head of Sales UK&I, European Strategic Sales & Marketing including Product Management as well as Brand and Marcomms. Chalmers thrives on creating customer value and delivers results by leading and motivating the brilliant teams around her. She has both extensive domestic and international industry experience in previously held Commercial roles across Pharmaceutical, Manufacturing and Fresh Produce/FMGC sectors.

Seth Grizzle - Seth Grizzle is an architect turned furniture and lighting designer and conceptual artist. His award-winning conceptual design studio, graypants, creates products, architecture, and custom installations, among other things, working in various mediums as well as discarded/reclaimed materials. Founded in 2008, graypants operates teams in Seattle and Amsterdam, solving problems and collaborating with clients and retail partners worldwide. Graypants is an innovative model for what is possible when designers return to using their hands, think responsibly, and craft outside the lines. Seth serves on the board of the Henry Art Gallery, contemporary art museum of the University of Washington.
Susie J. Silbert - Silbert studied glass, textiles, and ceramics at the University of Wisconsin-Madison, receiving her BFA in 2003. She worked as a curator and collaborator in the Mark Peiser Studio for four years as well as in a variety of other curatorial positions before and after earning an MA in decorative arts, design history, and material culture from Bard Graduate Center in 2012. She taught glass history at the Rhode Island School of Design for four years while also working as an independent curator and writer. From 2016 - 2023, Silbert was the curator of postwar and contemporary glass at The Corning Museum of Glass, where she also edited the New Glass Review. In 2019 she organized the exhibition New Glass Now, an international survey of contemporary glass.
Project Details
September 15th
5PM to 7PM

Join us for the 2023 Momentum | Intersection Opening Reception on Friday, September 15th, at the Toledo Museum of Art Glass Pavilion.