Momentum | Intersection
Glass Program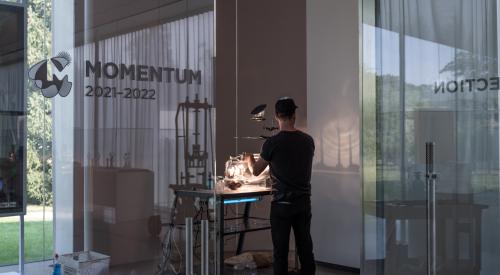 The Momentum | Intersection Glass Program is currently accepting proposals for the 2024 Exhibition. Those interested in applying should review the request for proposals (RFP) and apply online. The application deadline is June 28, 2023.
ABOUT MOMENTUM | INTERSECTION
Launched in 2018, the Momentum Intersection program is a collaboration of industry, design, and art. Inspired by the studio glass movement and the experimental glass workshops held in Toledo, OH in 1962, The Arts Commission seeks to provide new partnerships between applications of glass as an artistic medium and manufacturing processes.
Each year up to three creative individuals are invited to reimagine the potential of Pilkington float glass through the creation of newly developed works. A selection panel of internationally recognized industry experts review applications through two phases. The finalists begin as a group of six who are invited to tour Pilkington Glass North America facilities and manufacturing plant; attend seminars on the history of glass manufacturing; learn about materials from NSG research and development engineers; be given demonstrations on various applications of glass materials; be provided with materials of the participants choice, and receive ongoing support from NSG technical teams who will continue to be available throughout the process. Within three months the finalists are tasked with creating a final proposal for the jury to review with up to three projects given materials, an honorarium, and exhibition space during the following year's festival. 
2023 Momentum Intersection Exhibition
The 2023 Momentum Intersection Exhibition is scheduled for September 15 - October 15 at the Toledo Museum of Art Glass Pavilion.
The 2023 awardees have recently been selected from six finalists. The Arts Commission is pleased to announce that three internationally recognized artists / teams will be creating new work for exhibition this fall as part of the Momentum Festival. The awardees are: Molly Burke and Nathan Gorgen, James Friedberg and Gabriella Giungato, and Felicity Machado.
Project Details
September 15th
5PM to 7PM

Join us for the 2023 Momentum | Intersection Opening Reception on Friday, September 15th, at the Toledo Museum of Art Glass Pavilion.