Murals
5 Recently Completed Works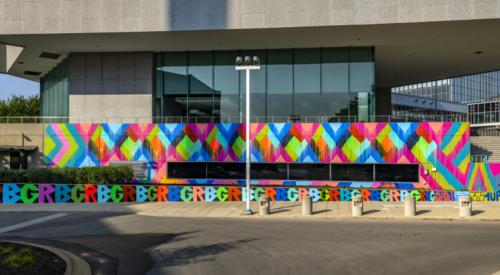 In September and October of 2020, The Arts Commission of Greater Toledo's Art in Public Places Program facilitated the installation of a suite of five new murals. Through curation and design review board processes these works highlight the strength of collaboration between public and private investment in the arts. A special thank you to the City of Toledo and ProMedica for their continued support of the arts and investment in beautification of Toledo's riverfront infrastructure.
Toledo Concourse Murals featured artists include: Ken Dushane (Toledo, OH) and Timothy Robert Smith (Los Angeles, CA). The Water Street Murals were completed with curation support provided by Dustin Hostetler and features artists Maya Hayuk, "RBG" (Brooklyn, NY) Louise Jones aka Ouizi, "Green Space" (Detroit, MI) Yusuf Lateef, "Naima Finds A Cicada" (Toledo, OH). Each artist's unique style contributes to a visually dynamic corridor that improves the infrastructure of existing architecture. The murals create a welcoming atmosphere for pedestrian traffic and encourage people to stop, photograph, and spend time along the riverfront. The Water Street murals are an extension of the legacy of public art in and around Downtown Toledo started by the Art in Public Places Program in 1977.
Credit: Doug Hinebaugh
MAYA HAYUK (BROOKLYN, NY)
"RBG"
Maya Hayuk's paintings and massively scaled murals recall views of outer space, traditional Ukrainian crafts, airbrushed manicures, and mandalas. Hayuk weaves visual information from her immediate surroundings into her elaborate abstractions, creating an engaging mix of referents from popular culture and advanced painting practices alike while connecting to the ongoing pursuit of psychedelic experience in visual form. She has painted her iconic outdoor murals all over the world and, when not traveling, maintains an active studio in Brooklyn, sketching in paint to inform the large-scale works. She sees her studio painting practice and mural making as both inversely relational and symbiotic.
Funded by ProMedica
Credit: Doug Hinebaugh
OUIZI (DETROIT, MI)
"GREEN SPACE"
Louise Jones (née Chen), aka Ouizi, was born and raised in Santa Monica, CA to Shanghainese parents. She is best known for her large scale floral mural installations which can be seen in public spaces throughout the United States, from museums to public parks. The murals often depict site-specific plants and animals, and the techniques are uniquely informed by her education in drawing and printmaking. Her affinity towards botanical subjects continues to grow, stemming from an early introduction to Georgia O'Keeffe and fond memories of picking figs with her grandmother. She currently lives and works in Detroit.
Funded by ProMedica
Credit: Doug Hinebaugh
YUSUF ABDUL LATEEF (TOLEDO, OH)
"NAIMA FINDS A CICADA"
Yusuf Abdul Lateef is a visual and performance artist that works collaboratively to create positive and vibrant public works. Lateef is a Young Artist at Work 1994 alumni that went on to become one of the first senior apprentices. Lateef then became an Artist Instructor, and Artist Clinician. Since then, he has completed over 16 murals and multiple workshops including projects for Toledo Public Schools, The Toledo Fair Housing Authority, The Toledo Museum of Art and Bowling Green State University. In addition, Lateef is a co-founder of a for-profit arts collective, Radiant City, where participants are able to share their thoughts and energy while using the fundamental elements of the creative process for self-empowerment. He earned his BFA in the field of painting and drawing from the Columbus College of Art and Design and a Masters of Fine Arts degree from Bowling Green State University with a focus in social engagement as art practice.
Funded by ProMedica
Credit: Doug Hinebaugh
KEN DUSHANE (TOLEDO, OH)
"ON THE WINGS"
Ken Dushane is a muralist, designer, and educator, who wears a lot of hats. From chasing down large-scale mural projects across the country to teaching youth in his community, he has always had a passion for using his talents to give back. Ken was raised in Belleville, MI he started his art career in Detroit, MI in 2013. Now he has transplanted to Toledo, OH where he resides with his family of seven. He is an instructor at the College for Creative Studies in Detroit and an alumnus Young Artist at Work instructor here in Toledo, OH.
Funded by the City of Toledo's One Percent For Art Program
Credit: Doug Hinebaugh
TIMOTHY ROBERT SMITH (LOS ANGELES, CA)
Timothy Robert Smith is a painter, muralist and multi-media artist, combining realism with cinematic design to create vibrant images that stand the test of time. His work fuses together multiple perspectives into one kaleidoscopic vision, exploring our cognitive understanding of time and space. His art has shown in solo exhibitions at museums, TEDx conferences and several galleries; being featured in media outlets that include Juxtapoz, Artillery, NBC and KCRW. He has created a plethora of public murals around the United States and Japan, working with businesses, universities and city leaders to create permanent public art to help beautify the community.
Funded by the City of Toledo's One Percent For Art Program
Featured Supporters