Summer Programs for Youth
Ages 12 - 17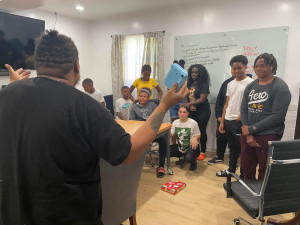 GOAL MINERS
"Mine your mind for the jewels of success."
Goal Miners engages youth in arts-based exercises to set goals to become their best self. Explore identity, interests, and create a resume over the course of each session.
Dates for the 2023 Goal Miners program coming soon. This is a free program and no registration is required. 
CIRCLES + VERSES
Circles and Verses is an opportunity for youth, ages  to have honest conversations about life experiences and mental health in a welcoming and safe space. Youth are invited to experience creative expression and alternative dispute resolutions through hip hop, visual arts, and cultural opportunities. This is a free summer program held in partnership with the Junction Coalition, no registration is required. 
Goal Miners and Circles + Verses Programs sponsored by: The Arts Commission, City of Toledo, Ohio Arts Council