The ABC's of Public Art Book & Field Guide
Request Your Free Copy Today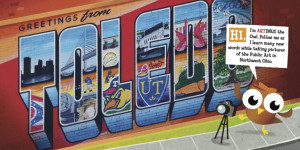 Overview
The ABC's of Public Art is an alphabet book that features the City of Toledo's rich public art collection. Originally published in 2012, this updated version has been created as a service of the educational component of the City of Toledo's One Percent for Art Program and is available for free to interested parents, teachers and/or mentors of young children. The publication will be distributed through a number of literacy and outreach programs with a goal of having copies in the hands of thousands of 3 to 5 year-old learners.
Children will follow Artimus the Owl through a tour of Northwest Ohio to learn about an impressive collection of large-scale sculptures, murals and functional structures by noted artists from both our region and from around the world. As Artimus takes photographs of the works, he learns new words quite literally from A to Z.
So far, 10,000 copies of the original publication have been distributed over the past 8 years, and 10,000 more copies of the updated version have been printed with over 6,650 distributed.
About the Illustrator:
Merrill Rainey is an award-winning illustrator, designer, author, and paper engineer. His most recent books include Color, Cut, Create • Dinosaur World, and Color, Cut, Create • Horse Ranch published by Odd Dot an imprint of Macmillan Publishing. Merrill is also the author and Illustrator for a new board book series with HarperCollins. The first book Roar! I'm a Dinosaur is set for summer of 2022 publication. He works for many children's magazines like Highlights, Cricket, Ranger Rick, and Humpty Dumpty. He has served on faculty at the Highlights Foundation retreat center and is currently the illustrator coordinator for the Northern Ohio chapter of the Society of Children's Book Writers and Illustrators. Merrill lives in Whitehouse, Ohio with his family. Visit him online at littlerainey.com or follow him on Instagram @littlerainey.
The Field Guide
This guide features artworks from the City of Toledo's One Percent for Art collection, which is administered by The Arts Commission through its Art in Public Places committee. There are also several works from other collections in Northwest Ohio.
Toledo, Ohio manages over 80 works of public art. Much of this collection was developed through the efforts of involved citizens who enacted a 1977 ordinance. A percentage of public tax dollars enables the commission, acquisition, conservation and educational programs for public art in the community. Toledo was the first Ohio city to adopt such an ordinance and remains a leader in the field of public art.
Included in this publication are photographs of large-scale sculptures, murals and functional structures by noted artists from both our region and from around the world. These artworks are displayed in the downtown area and throughout many of Toledo's neighborhoods. We encourage you to explore this diverse collection, which has been acquired through the years from public, corporate and private support of the arts in Toledo, Ohio.
To order The Art in Public Places Field Guide or The ABC's of Public Art book, please contact Nathan Mattimoe, Director of Art in Public Places, at NMattimoe@theartscommission.org.